15/6 – Ayla har fått løpetid og paring vil skje i uke 26.
Valper planlegges på Ayla høsten 2020. Hannhunden jeg har valgt til Ayla er Vassruggens Eirik Röde «Mickey». Han kommer fra et kull hvor alle er røntget fri for HD/AD og 5 er øyelyst UA. Valpene vil bli genetisk fri for prcd_PRA og gr_PRA1 via arv.
Jeg har stor tro på denne kombinasjonen siden Mickey utfyller Ayla på alle måter, både genetisk, mentalt og egenskapsmessig. Målet er å avle frem sunne, energiske, arbeidsvillige og mentalt sterke valper. De blir kun solgt til deg som vil bruke den aktivt innen jakt, lydighet, bruks, redning, eller annen hundesport. Jeg selger ikke rene familiehunder fra denne kombinasjonen.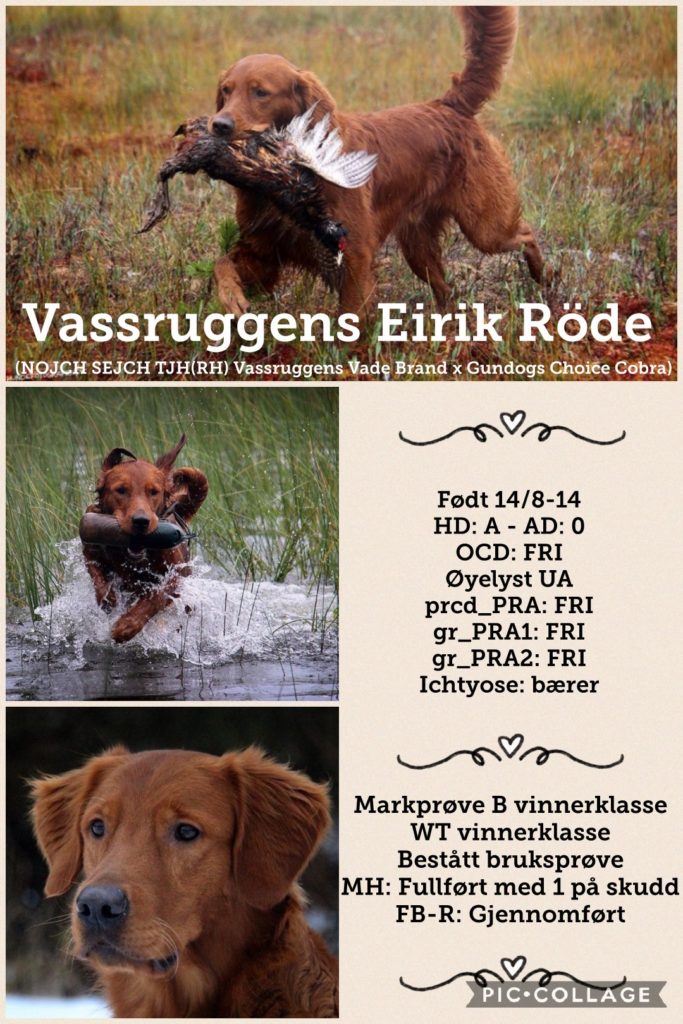 Henrik sine egne ord om Mickey:
Mickey is very easy to train with a lot of will to please and motivation. Furthermore, he works with very high intensity and speed, both on land and in water. Mickey is a friendly and social dog. He accepts other male dogs and works without problem in a group of dogs. Mickey is quiet and calm in all situations, but because of his very high desire, it is important continously focusing on this in the training. He is a mentaly positiv dog with self confidence. He never gets tired of working, even though he fails, if he succed the next time. Mickey is from out of general healthy lines and is both x-raid and DNA-tested. Mickey has participated in cold game tests and working tests during the 2016, 2017 and 2018 season. In 2019 he has participated on hunting as a retrieving dog. Mickey retrieves every kind of game I have represented for him, both feather and fur. He has a soft and calm bite, so he has never crushed a game.
Stamtavle på k9Data finner du her.
Du finner resultater og kan lese mer om Mickey på hans hjemmeside.